Grand Opening
11.15.2011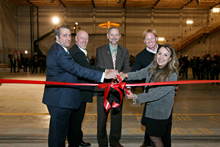 This past week we proudly celebrated the grand opening of our eagerly anticipated new production facility. To mark the historic occasion, on November 9th Santa Fe Studios welcomed over 20 Hollywood executives from such mainstays as Disney, Warner Bros., 20th Century Fox, ABC, Sony Pictures Entertainment, and Exclusive Media to a reception and ribbon-cutting ceremony.
The City of Santa Fe and Santa Fe County co-hosted the two-day visit, which included a tour of the newly minted Studios, as well as several of the neighboring historic sets and classic Western locations.
"New Mexico is back in business," said Mary Ann Hughes, vice president of film and television planning for the Walt Disney Studios.
Widely respected producing and directing brothers Lance and Conrad Hool, along with Lance's son Jason, are the pioneers behind Santa Fe's first major production facility. As filmmakers themselves, the Hools have a keen understanding of the complex needs of film production and have built the Studios with the simple credo: "by filmmakers for filmmakers."
Globally recognized as a unique cultural and artistic haven, Santa Fe "The City Different" provides an ideal location for film production, thanks to its close proximity to Los Angeles, mild weather, large and experienced local film crew base, and significant state incentive program, which gives filmmakers a 25% rebate on production costs. CEO Lance Hool is optimistic and determined to usher forth a new era in the long tradition of film and television production in New Mexico.
"Santa Fe Studios and the city itself offer convenience, good value, and a beautiful backdrop like no other," says Hool.